Surrounding area
Nowhere but here can you get so enjoyably "lost", without ever really going astray in the process!
Discover Graz - a UNESCO world cultural heritage site – with its juxtaposition of Renaissance, Gothic and Baroque. Hidden-away alleyways, romantic inner courtyards, artistic façades, the atmosphere of the south. The superb view of the red-tiled roofscape of Graz from up on Schlossberg is beyond words.
You can combine a trip to our Lippizzaner horses in Piber, with a tour of the Hundertwasser church in Bärnbach...
Or go up to Schloss Riegersburg (the Riegersburg castle) by the panorama lift, or to Stainz for a tour of the Stainz castle and, on a cool rainy day, to one of the nearby thermal spas.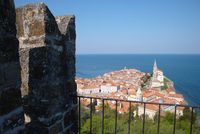 Do you fancy a trip to the seaside? A 1-2 day excursion to Piran - organised by us – is just the thing: you can reach your destination in less than 2 hours, and why not fast-forward the journey with an espresso in Trieste?
We're happy to advise you regarding further places to visit.